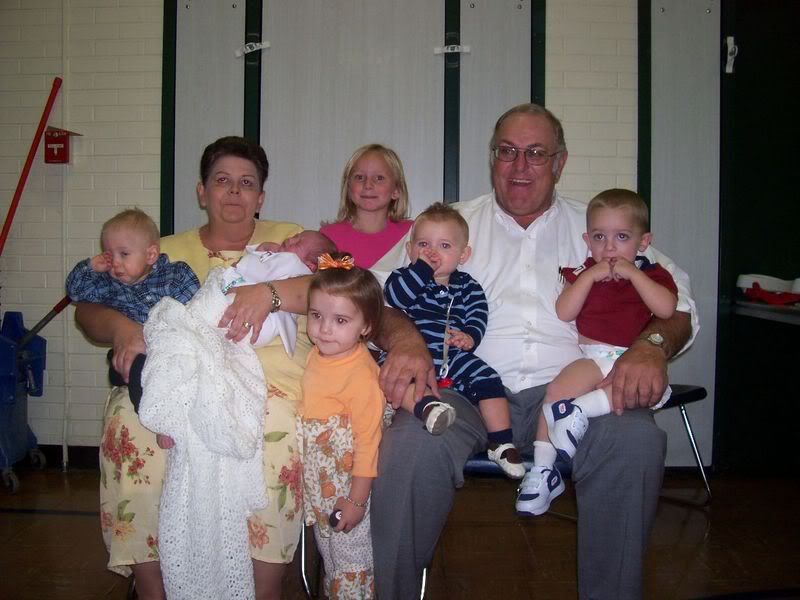 I just wanted to take the time to tell my parents happy anniversary!
They have been married for 31 years years. They are each others best friends and have such a great time with those 7 grandchildren and Nicky ( sorry Nicky.. had to say it)!!!
Some marriage facts on my Parents:
Engaged after one real "date"
Wrote letters to each other for my dads 2 year mission.
My dad did not pick out her ring but my dads sisters Luann and Marry did the dirty deed for him

They were married in The Ogden temple. My moms cousin forgot his pants!!

My moms wedding dress was sown by my Grandma Nell. Its is a simple dress but was very elegant.
My parents were farmers for the first several years of their marriage.
They lived in Cornish Utah.

2 of their 4 children served missions for the Church of Jesus Christ of Latter day Saints.
3 of the 4 have received their Associates in College
1 of the 4 have gotten a bachelors ( although I am 3 semesters short)

1 of the 4 have gotten a Doctors degree.

3 of the 4 have been married

1 of the 4 is the Favorite Aunt to 6 kids ( that would be YOU Nicky)
They have lived in the same house for 20 years and have had to change their address
They are the grandparents to 6 kids.

2 of the grand kids have special medical needs

3 grand kids live out of state
Their dream vacation would be to be totally surrounded by those 6 grand kids watching them be happy.

As you can see by the photo above they are very happy people. They are loved by many. When Kayden was diagnosed with Kidney disease they had their faith tested. Ty came along not so long after and tested their faith again. With the ups and Downs of all six kids their faith has been tested.
They have come out on top every time. They don't realize how strong they really are.
My list of what they have done for me
Gave birth to me and raised me well.

Taught me to love my neighbor
Taught me to be giving and understanding

Taught me to have faith

Moved me a million and one times

Made me throw away shoes

Taught me that if I didn't clean up my room it would be packed into garbage bags and I would have to pay to get them back

Socks will smell if you wear them all week.

Encouraged me to go to college
Supported me when I got married

was there EVERY weekend to love on Tyler when he was sick
Came up in the middle of the night when I told my dad about Ty needing a shunt

Sat with us for surgeries that lasted more than five hours
Sent me on a mission
Let me take my baby to Arizona

As you can see they are busy people. Thank you mom and dad for all you have done
SOOOOOO...... leave me a memory of my parents. I know you all have them. AND my sisters read my blog so I should have at least 2. Chantel.. You count as well. So I have 3!!
( That is my kid that looks all pissed and NOTHIN like any one else )