Ok so here is more of our Vacation!!
Tuesday we slept in.. well I did at least. We headed down the strip and had a great time. We walked into several casino's. We saw the botanical gardens and the gorgeous glass ceiling. It was gorgeous. We continued down toward the Venetian so that we could attend our show. We planned one eating there and heading to watch our show.
It was a longer walk than we had thought and we looked in the Venetian for a restaurant that we wanted to eat at and decided on a restaurant by Wolfgang Puck or a Italian place. Well the Italian place won and we sat down. The menu had 3 kinds of food on it and we opted for pizza but when we found out it was covered in goat cheese we decided that fancy Italian ( overpriced) goat cheese filled pizza was not our thing we told them we changed our mind and left.
We went and got our tickets to the show and asked the girl behind the counter for a "normal" place to eat. She directed us to the Grand Lux which was owned by the cheesecake factory. We had steak and shrimp scampi. It was pretty good.
So the show..... it was AMAZING! Dallas got us tickets for our anniversary. They were wonderful seats. We were fifth from the front. We were so close that at some point in the show we could feel the fire. It was AMAZING...
So what was the show...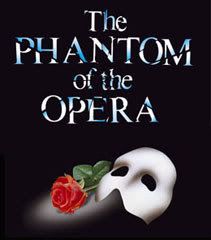 It was so great. We were awe struck the whole time. They did a great job, costumes were great, acting was wonderful. Theatre was just awesome! It was a great anniversary present.
We took a cab back because the walking gave D blisters. I felt horrible. I bought new shoes because of work and he had crappy shoes. So I could walk forever. But a cab ride was nice. The cabbie didn't speak English and played on his cell phone the WHOLE time we were riding.
Anyway back at the hotel Dallas and I tried our hand in some slots and blackjack. Dallas is really pretty good at it and I was able to see him in action. He had a pretty good streak there as well!
I got a pretty crusty look from the pit boss and the dealer for taking the picture. I think they thought I was cheating.. I wasn't. I would have though.. just for D!
I went around looking at the sights and taking some pictures. Then headed back to the room to read and sleep. I had gotten sick with a cold. I enjoyed the time alone and quiet. And later got to snuggle with Dallas.
Wednesday we got up and went to the pool. Dallas got up before I did because he couldn't sleep. I stayed in bed cause sleeping is NEVER a problem for me. At the pool I was able to "work on my tan" which is just a fancy way of saying I got the snot burned out of my back and shoulders which I have been paying for dearly. Dallas also got burned. But tonight mine is feeling much better!! Hopefully his will soon.
The funniest thing happened at the pool! While we were there I had to go potty. ( yep my kindergarten bladder kicked in again) and I ran to the restroom. While there I stepped out and there was this BOY in the bathroom blowing his nose. The boy was probably 19. He looked totally horrified as three ladies walked out on him. When I left the bathroom the whole area around the restroom was laughing.. It was great.
After the pool we decided to spend a relaxing afternoon doing NOTHING. That's right NOTHING. We layed around talking and laughing and doing just what a vaction was meant to do. We did order a movie and got some snacks and sodas and hung out the rest of the afternoon. We went to the grand buffet and had some great prime rib and then back to bed. It ROCKED.
Thursday we got all ready and flew back to our precious little baby. It was so good to see him. He is such a cutie. That night Nicky and Lexi came out to visit Tyler. It was cute to see Lexi play with Tyler. He loved chasing her and giving her kisses and loves. She brought a camera to take a whole bunch of pictures home with her and I hope they turned out ok!
Friday was family picture day at wheeler farm. I will have to post some photos of him and the animals later but here are a few of my favorite shots throughout the day. ( Yes crys.. I am still sending them I can't figure out how to get the WHOLE file to you!)
Friday night was dinner at Braza. It is mine and Dallas' favorite restaurant in SLC. It is great. It is a Brazilian steak house. It was totally worht the overfull feeling you have when you leave.
Saturday morning was Noah's birthday party. It was such a joy to meet this little boy. He is so sweet. He smiles ALL the time. I can't help but love Crystal even more as she has struggled through the first year of special needs. It is a different world and was sad she had to come but was glad to have her with me! It was a bitter sweet moment as we thanked our Heavenly Father for Noah today and blessed him and also blessed the family who lost a little one so we could have that sweet little boy! Thanks for sharing it with us and having it early!!
Then onto the airport where I HATE some of the airlines. Not seeing that we have a million things in our hands but to add more! All in all the trip was great. We missed seeing Gma and Gpa labrum. They had other commitments and didn't come up. But it was good to see Nicky and Lexi.
It was freezing cold in Utah and we flew in leaving 60 degree weather to land in Sunny Arizona at 99 degrees. It was amazing. We were so glad to be home.
Now back to the real world!!