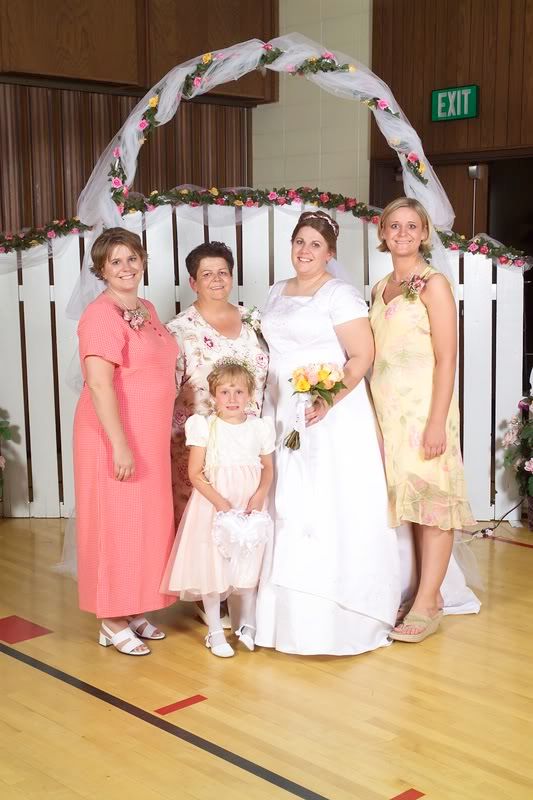 My own mom: Despite our MANY MANY large differences and opinions you are still my mom. Thank you for all the things you have done for me.
The biggest thing that always sticks out is when they were getting Ty ready for a surgery ( I think his eye surgery) and he needed to be held down to get his IV in. They were having a hard time but he was screaming and I was crying. You came in and took over. You stepped up when I couldn't be his mom.
Another time that sticks out is when I was being released and they had just ripped open my stomach ( that isn't' a exaggeration either ;) ) you heard me crying from down the hall and came hurrying down to see what they were doing for me. You were there for me and all the time that it was NOT pleasant.
Thank you for sitting through countless surgeries for me and for Tyler. Thank you for the support when I have needed it. You came when I asked and I appreciate that.
Happy Mothers day. I hope the last 30 years of motherhood has not left a bitter taste.. I know the MANY mothers days you haven't enjoy are being replaced by ones you will remember.
A bushel and a peck........ LOVE YOU!

Mom Brown: Thank you for all the wonderful things you have done for me. What a Cliche on this post.. but you have been great. Looking back on the first time I met your family I can't believe I was worried and afraid. I thought you would all hate me and that Dallas would not be allowed to see me any more. I guess I was wrong. He wasn't "banned" from seeing me!
The last 3 years have been the best in my life. Those boys I have in my house are the Most amazing. I have you to thank for my Hubby. He is my best friend. He has learned to love because of you and Ken. He is a wonderful hubby and father. I Love how he cares for Ty and for the tender love and care he has provided for me and our family. Thank you for raising my best friend.
Tammy: From the look on that first babies face I knew I was hooked! She is amazing. When Kayden got sick you really had to work hard to keep him alive and thriving. I didn't know at the time the emotions and strength and determination it took to get through it. I know this last year has been hard but you have come through it and made it to the end. I admire your strength and love and unconditional love you have shown people who have hurt or disappointed you. Your children will be more than blessed! Thank you for being an example. Happy mothers day Sis!
Crys: There are so many things that I have to say about Crys. I will keep is short ( if I can) When she had Noah and I heard of his struggles my heart broke. I knew she was feeling so alone and that no one understood what it felt like to have them ripped away from them. I wanted to extend my feelings to her so badly. I knew exactly what she was feeling. We didn't have the extent of the heart issues that Noah did but heart surgery on your baby in any sense is horrendous. You were in our thoughts and prayers everyday till you got your new heart. Now the prayer has changed. You have such a positive attitude toward the trial you have been offered. I know that on the front end it might feel like you are all together and sometimes behind the scenes it is all falling apart but that makes us human. I admire all you are doing to help your family and to keep it all together. Thank you for becoming my sister this year. You have been my "sister in law" for 1 and a half but to be your sister is WAY better. Happy Mother's day to your 2 special bundles of JOY!
Chantel: I know we have our moments but you are still stuck with my brother. We are so glad to have your 2 kids as additions to our Family. They are very cute and very smart. I am so glad they didn't have to struggle to do the typical things. They have a wonderful mom who is very organized and very loving. Good luck packing. I still vote for movers and packers... they at least use bubble wrap! Good luck on the move and in your endeavors. Happy mother's day.
Nicky: I know you don't have your "own" kids... but is that really true? What would Kayden do without NINI! I know they won't call you that but we think of you that way! I don't think you understand your influence over our children. You and Lexi fight like sisters!! But you love her and she looks at you and sees what you do. I couldn't have survived my first year with Ty without you to come a hold him and take him when he didn't have a working shunt. He was so hard but you loved him and played with him and not once complained. I will NEVER forget the look on your face the first time you got to see him. There were tears in your eyes and you had SO much love for the little package you couldn't hold. BUT the day you did .. you wanted a pillow so you didn't "drop" him. You were so happy. You are a wonderful mother. Some day when that bundle comes to you we will be there and hopefully when you make your bread and jam we will be there to be the best Aunt that you have been to our kids.
Sheena: Oh Sheena. What would Ty do without you! You and Ty have a special something. I appreciated the time you took to sit for him while we were there. You are an amazing woman. You have such a love for the kids that you will make one heck of a mom. Some day when you have a house full remember how much you wanted them. Thank you for loving Tyler so much. Thank you for being a wonderful Aunt.
Jennifer: You are so unselfish. The trip you took to take care of Lily while Crys was in Denver was the most unselfish thing I have EVER seen a young woman take. You have no idea the impact that it has had on the relationship you have just made with Lily for the rest of her life. I have a similar relationship with Lexi and let me tell you. It is so amazing as they grow. The impact of your selfless decision has also impacted Crystal. I Can't tell you how much I know she appreciates you and your act of kindness. That Act, along with many other wonderful qualities will make you a WONDERFUL mother.
Meagan: AWW auntie Meagan. So young!! But man you sure loved those babies. We can't wait to see you in a few weeks. We show pictures of you to Ty and he claps. You are just starting on your journey. All the things you have been taught are preparing you to be a mom. You have watched the struggles of each of our kids and I know that if you have to do it you are going to be VERY prepared. You are such a sweetie. You have so much love and care for your family. Even Dallas... who is such a tease! Happy Mothers day to you!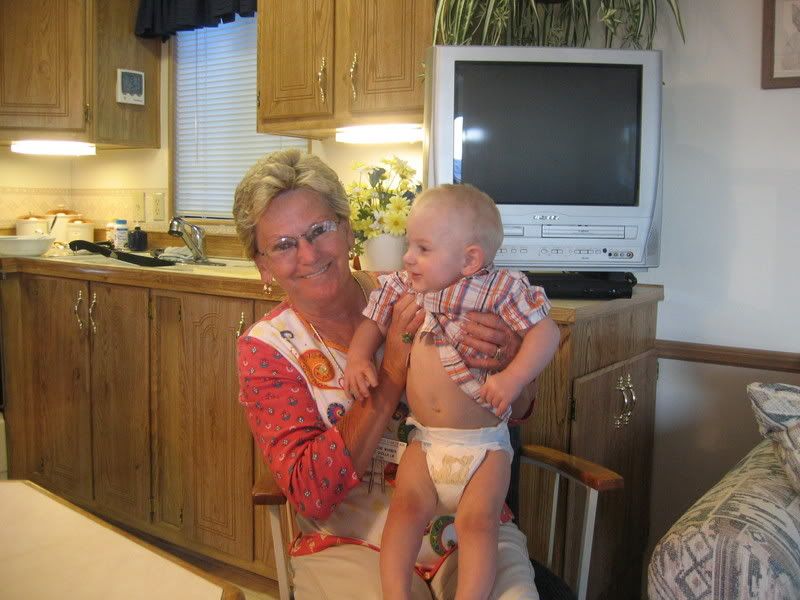 Grandma Warner: I am new to the grandma who is around so forgive me for the lack of phoning while you are in Florence. Thank you for having so much care and concern for what Tyler is doing. It means a lot to me. I loved that you wanted to show him off at Thanksgiving and was glad he was willing to participate. Thank you for raising a wonderful daughter who in turn raised a wonderful son. For that I will forever be grateful. Can't wait to see you in Arizona when the weather is "cool"!
To my wonderful Aunts... Aunt Linda never forgets our birthday. She would call when we were younger. She sends chocolate when we are older. She even remembers Tyler. You are the best "mom" in the world. You have no idea what your love and thoughtfulness truly does mean. Thank you.
My dads sisters: Something I have been trying to find a way to say for about 3 years. I can't tell Mary and Luanne how much it meant to me that you came when I had Tyler. I had no idea that you cared until that day. That visit has meant so much to me in the last few years. You didn't have to come but you did. It truly meant a lot. And Mary thank you for visiting in the hospital. It was very much appreciated. I was so proud of my little man and got to show him off. Again thank you.
Last but the most important of all. My 2 grandma's. They both have to watch from the best view in the house but they are there. Every day something that they taught is used. My grandma Labrum had LOTS of boys. I am sure her patience was tested. She also lost 2 very small babies. I think of those babies when I look at my miracle. Why? Because if she was having them now they would be alive. But I wonder what they would be like. I also think of the pain she had of losing 2 of them. On my mission I received a letter from a ward member in their branch. She was serving here in Arizona. She told me how loving and caring my granny was. If her example had such an impact I sure hope I live up to that example. Plus, my dad is amazing and he raised us with lots of humor .. which Grandma sure had!
Grandma Nell was someone I didn't know but I do "know" her. By her example my mom is the mom she is. I know there are differences between me and my mom but she is my mom. She loves me no matter what. She always does her best. She is to hard on herself. She is a spitting image of her mom. I was told my whole life about Grandma Nell and I know that she was a wonderful mother. Why? Because I have a wonderful mother.
Happy mothers Day to all you moms out there. Lori and mom I have a card... that is late! We will get if off on Monday. We hope you all have a good day and CALL ME and we will set up a time to get on the computer. (CALL ME!! Not Dallas!)