My amazing and wonderful hubby bought me a new bed. I love it. I just sink into
it
every night and my body just screams don't get out!!
I had a problem deciding what new comforter I wanted for it. When I found the exact one I wanted it was SOLD OUT! I hate when that happened. I googled high and low and never found a king sized one. I was so stinking mad.
I checked bed bath and beyond and didn't want to sell off half of Tyler's arm for just a comforter so I passed.
Dallas showed me one of the great site of overstock and I kept going back to it. We decided this was to be our new bed. We are very into the black and silver and browns ( HE HE browns!) and so I bought a new bed set. The most amazing part...
8 pieces
under 200 bucks for a king sized.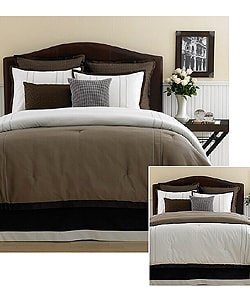 So while googling the WWW I found a 8 dollar off coupon and preorder Breaking Dawn ( yes Dallas is ok with my affair with Edward) and it was under 200 bucks!!
I love Internet Shopping!!